Wild Snowflake ::
Everyday Adventures
Happy Birthday to ME!!!


I FEEL IT IN MY FINGERS...

This weekend (my birthday weekend) rocked!

On Friday night, Lucky and I went on what turned out to be a double date with Stitch & Lilo to see "Love Actually." It was a wonderful smarmy movie. It made me cry because Liam Neeson's character's dead wife wanted him to bring Claudia Schiffer to her funeral... It was something that Helen would have said. But other than that it was funny, sad, mushy, all in all loverly. Although it did have alot of characters to keep track of and therefore wasn't that deep.

Then on Saturday, I was a slugabed and slept until 11:30!!! This was much welcomed. I then went with my mom to a small craft show and then headed to Target for a little birthday outfit shopping. I soon headed back to Lucky's a bit gussied up to go to my birthday surprise. (Ok, it technically wasn't but I thought we were going to Red Bank so I guess we could call it a surprise)... We had dinner at Old Bay Restaurant where we both indulged in their signature "Swamp Water" drink and some yummy food including Bananas Foster.

We headed up the street to the State Theater where we saw the Moody Blues!!! The show was lots of fun (the flautist Ray Thomas had retired because of gout in his legs so there was a female replacement)... but almost as fun was watching the fans (Lucky and I were among the 20 people under the age of 40) scream and give standing ovations for every song. It was quite a shock considering that the last time we went to see a performance that attracted that age group (Dr. John), they were very stade and honestly, I think Dr. John's music is more of a "gityerbuttup" type than the MBs.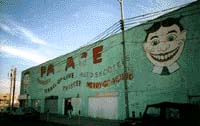 The next morning, we headed down to the Palace in Asbury Park to help the "Save Tillie" association with a community cleanup. It's amazing what a dozen people with shovels, brooms, and a leaf blower can do... Granted it doesn't look perfect, but now it doesn't really look that abandoned.

We raced back up to join Stitch, Lilo and Baloo at my place and headed to the ChipShop in Brooklyn which had been featured often on the Food Network as the originator of the deep-fried Twinkie. We were met up by EvilElmo, Beemer and his friend Charlotte. It was a fun place where we could chat a bit. However, the neighborhood is not as reformed as the restaurant. And the roads... ah well, let's just say that Baloo ran over some old trolley rails and caused a slow leak in my front left tire which had to be replaced in the morning.

Rundown on the deepfried desserts (btw... the df mac and cheese is DELISH!!!!)... Twinkie (tastes like funnel cake and very greasy, served with a raspberry coulee for decoration), Reese's peanut butter cups (good but a bit dry on the pb, would have been better with some whipped cream), Snickers (have no idea, Stitch didn't share like he was supposed to), banana (delish, nice and mushy on the inside), and Bounty (melted chocolate and coconut... far and away the winner... which was good since it was mine!)

Hope all of you have a wonderful Thanksgiving... I will be heading to Lucky's brother and SiL's place and see how well I can stay on South Beach that day. (Tonight, I'm going to have a cooking lesson from my mom and then we're serving it up to the family)

---
Unfortunately, my namesake died this morning... He was 80.
---
Can't be bothered with rugby rules, then try hashing It's like rugby running.
---
Moby should be happy... a Family Guy reunion is in the works.
---
AN OPEN LETTER OF APOLOGY TO PAT DINIZIO

Dear Pat,

We had a wonderful time seeing you do your solo requests-only show at Orphan Annie's. You performed my personal fave "Blood and Roses" which I remember as a video being shown on U68 (Remember UHF stations?!) with clips of the movie that it themed. Lucky was thrilled that you played "A Girl Like You"... (Funny that he's never seen the whole "Say Anything" movie).

It's been awhile since I've been awake at 2 a.m. but your second set really rocked and made it worth it. The songs dedicated to your daughter were really sweet. They reminded me of my brother's song "Dream Away" (which by the way has a real Buddy Holly sound to it).

Perhaps it was the late hour that caused me to give you the wrong directions home. I tried to go down the road that I told you to go on and within one block, it ended. I hope that you didn't trust a 30something redhead with tired eyes and asked the waiter at the diner I KNOW I gave you the right directions to!

Anyways, thank you for a wonderful time. And again, sorry for the wrong directions.

~Wild Snowflake
---
Mickey is turning 75 this month (just like me he's a Sag)... I remember when he turned 50 and had a special movie created that played at the local movie theater. We went there for my 8th birthday party. Hmmm... I'm getting close to that angstridden age in "When Harry Met Sally"...
---
French Toast Girl has opened her holiday store... to check out her christmas cards go here. They're gorgeous!
---
Can it possibly be Friday again... dang time goes by so quickly (Sorry Bobby Hatfield... that song is wrong)... at least this weekend wil be a bit more quiet than next. With the exception of seeing PAT DINIZIO of the Smithereens tonight, we have NO PLANS!!!!!!

Last Saturday, Lucky, Stitch and I went up to the Mohonk Mountain House to do the rock scramble that MMH call "the laberinth" but the locals call "the lemon squeeze." There are a bunch of boulders that you climb over/under/through following the arrows of the trail. Near the end, there's the part that gave it the nickname. You squeeze up this narrow crevice, using your hands and feets to climb up. I almost didn't make it, because I had twisted my ankle the previous week and the pain by then was quite throbby -like. But considering that you couldn't really get out of the situation, I did it!!! I would have jogged around like Rocky with my hands up in the air if my ankle didn't hurt as much.

The area around New Paltz, NY is like Stitch said... "crazy pretty" and we were able to really appreciate it on the way down the mountain (yup the boulder climb up takes 2 hours and the walk down you can do in about 10 minutes!)... there are little huts that you can sit in and look down the mountain at the lake and at the gorgeous resort. I think after this, they forgave me the fact that it cost almost $20 to do it.

We were zonked by the time we got home, so we didn't go to the birthday party we could have gone to. Instead, we ate Panera soup and watched the moon's total eclipse outside my window.

The next day, we accomplished so much... We woke up and walked to the diner (to stretch those muscles). It was my first day on South Beach so I couldn't have the hashbrowns that looked soooo good (Or the pumpkin pancakes that they were serving with pecan sauce :( ) Lucky and I noticed that we were missing something... a baby. Everyone at our side of the diner had a kid under the age of 12 months (except for the couple in their 80s). FTG has told me that I am welcome to borrow Princess Cinnabunny the next time we go.

Afterwards, we walked to the Armory to check out the Arts and Crafts fair... there was too much ugly jewelry and overly priced things. I kinda figured as much, but considering that the holidays were approaching, it doesn't hurt to look. Lucky went home to relax for a while and after a wonderful bubblebath (with hot water... something that I hadn't had in a while... old houses, blah blah), I picked him up and we went to celebrate FTG's niece's baptism. The baby's daddy EvilElmo was wearing his blue fish tie since it was a happy occasion; I got to see MairzyDoats who I hadn't seen since she went off to college (I have to admit I still think of her as the little girl who renamed her goldfish Fred (Savage) to Keanu in the early 90s).

But wait... you say that the weekend couldn't get more stuffed.... well, when I went home, BigD and his FiL picked up the futon that's been illegally parked in the common hallway since I got my beautiful purple sofa (granted I'm the only one on the floor but still). It's sooooo clear in the hallway now!

---


On Tuesday night, my darling SiL LittleD invited me to a "Purse Party". Innocent me, I'm thinking high end crafts like this cigarbox purse and a hand batiked number. Just a few weeks prior at the local street fair, there was a lady with those types of purses who mentioned she did "houseparties" and considering this was the same town, I figured this was one of them.

Oh so wrong... these were ummm... replicas of LV, Kate*Spade, Gucci bags. And not the most attractive ones either... the lacrosse moms were clamoring over them, wondering if they came in different shades of brown, black, and tan. LittleD liked one that was $145. That didn't come home. I don't know what upset me so much about the event. Perhaps it was the whole social class identifier thing, that they needed a label. Or was it that these were people who would snub the city vendor selling the same knockoffs but since it was being done in a house with free white wine it was ok. Or was it that everyone wanted to spend lots of money (granted not as much as for the real thing) on stuff that wasn't really different.

It goes without saying that I was the only one there with a lavendar Hello Kitty bowling purse. (Yes, I know that summer's over. I am now eyeing a Felix the Cat black and white petite number that is being sold at Joyce Leslie. Hmmm... should I spend the $9.99?)
---
PLAY THAT FLUTE, BOY... I'LL LISTEN
The Hawk, a Jersey shore rock station has stopped playing Jethro Tull because of something that Ian Anderson was quoted saying in the Asbury Park Press. Of course, this is a knee-jerk reaction to his comment regarding the American flag (which in my opinion, he's right about). And considering that this "news story" is being posted by AP around the world, Jerseyans are going to be portrayed as some super-sensitive simps. Read the Asbury Park Press article
---
The Palace at Asbury Park
(From Bob Crane of Save Tillie fame) The clean-up work done under the leadership of Dan Toskaner has made a huge difference to the appearance of the Palace. Since early summer, the monthly clean-ups have eliminated 15 years worth of junk and the result is startling. The last big clean-up of the year is scheduled for Nov. 22, starting at 9 a.m. at the Palace, and Dan can use a big turnout of volunteers. (which personally sounds like a great thing to me... a chance to perhaps check out the inside of the Palace?)

---
Alex from Another Girl at Play did a wonderful piece on her blog about the importance of little actions.
---
Just found out that "Emily Gilmore" (Kelly Bishop) lives in the town I work in... how exciting is that!!!
---
MMMMM... Johnny Depp on Broadway? ( I can only hope).
---
So the Tiger Lady ain't got no mo' tigers.
---
Interesting article regarding the NJ Turnpike
---
Cool... what one person can accomplish with time on his hands
---
Ahhh... just finished ordering Lucky's Xmas present. Let's just hope it comes in time... ten more people left!
---
Thinking of making this bag but first off... the holiday ornaments for the Get Crafty swap. Maybe I'll finish them tonight!
---
Click for Cans
Please click the above link and follow the directions... It pains me to say this but click on the Giants helmet. Because although it does say NY on the helmet (I have this thing about if a team plays in Jersey, they should be "from" NJ)... the cans of Campbell's Chunky Soup go to the Community FoodBank of NJ. Thank you.
---

The World Championship Punkin Chunkin 2003



So you're wondering... how was it? Well, like Lucky says... "It was one of those things that is better to have done than to be doing." It was kinda like a small county fair that is attended by locals, and not idjits who drove 4 hours to get to southern Delaware. It wasn't that well organized so there were no signs posted regarding the schedule. Basically you would just stand by the line of catapults (only press was allowed to go by the air cannons) and try to figure out which one was called what and when it was going to "chunk." I did manage to see about 10 pumpkins bite the dust, some biting the sky before they even got to splat on the cornfield (I guess the force of being tossed into the air caused them to shatter). One pumpkin even went the wrong direction and almost hit the people waiting in line for Maryland Crabcakes ($7 ea). The band playing was a bit too loud so that you could not hear the announcer who was doing the playbyplay of the competition. But...

all in all, it was a good time. Not great, but good. And we ended up having a lovely dinner in upstate Delaware (hee hee makes it sound sooo large) at an Italian restaurant in a strip mall.


---

Morpheus


?? Which Of The Greek Gods Are You ??
brought to you by Quizilla
---
---